Pallet wrapper

WMS 15 Profi

The wrapping machines WMS range is based on a modular solution for wrapping pallets in automatic or manual mode. The machines are suitable for operations from medium to higher wrapping capacity with extra high demands on quality and packaging savings.
All offered wrapping machines from the company EKOBAL are designed and manufactured in the Czech Republic by the parent company Pragometal. For their construction are used important electrical components from renowned European manufacturers.

25pal./hour

20programs

1200kilograms
Technical information
Semi-automatic intelligent machine equipped with a digital control system (PLC). The PLC is controlled on LCD display that allows operator to store 20 programs in memory with direct dialing. These programs have much more advanced wrapping options than on WMS STANDARD wrapping parameters such as: simple or cross-wrapping, foil tension, foil stretching, wrapping density, turntable speed, individually number of turns on the top and bottom of the wrapped goods, topsheet application, top-platen pressure for wrapping of unstable goods (if installed). The machine is equipped with an optical sensor for measuring the height of pallets and oriented turntable stop. WMS can also easily operate in manual mode with the possibility to adjust program settings directly in the packaging cycle.
Application
WMS PROFI is used for operations with a small or medium requirement for capacity of wrapped pallets with variety of goods heights. Machine ensures accurate compliance with the set wrapping program, which provides a high quality of wrapping with a minimum foil consumption. Suitable clients are manufactures with very variable types of wrapping and high demand for wrapping quality.
| | |
| --- | --- |
| Wrapping capacity (pal./hour): | 25 |
| Turntable size (mm): | 1500 (EUR pallet) |
| Number of programs: | 20 |
| Max. wrapping height (mm): | 2430 |
| Wrapped pallet size (mm): | 1200x800 |
| Pallet height reading: | Optical |
| Turntable speed regulation "Soft START": | no or inverter |
| Pre-stretching device: | elmag. brake |
| Turntable speed (rpm): | 10 |
| Max. turntable load (kg): | 1200 |
| Machine dimensions LxW (mm): | 2350x1500 |
| Air pressure (MPa): | - |
| Operational voltage (V): | 3x400, 50Hz |
| Electric input (kVA): | 4,3 |
ACCESSORIES
Optional machine version
| | |
| --- | --- |
| Turntable size (mm): | 1650 (1200x1000), 1800 (1200x1200), 2300 |
| Increased of load capacity (kg): | 1500, 2500 |
| Extended column = max. wrapping height (mm): | 3130, 3630 |
| Pre-stretching foil device: | 1 el. motor controlled Light , 1 el. motor controlled, 2 el. motor controlled |
Accessories
Regulation of turntable speed = soft start
Approach ramp - extended 1700mm
Turntable with scale (load capacity 1200 kg)
Approach ramp for turntable with scale - extended 1700mm
Pit frame for machine integration into the floor
Automatic foil tearing
Turntable with cut (load capacity 1000 kg)
Electric top-platen for unstable goods
Topsheet holder for hand application
Non-standard color version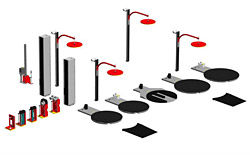 INSTALLATION LAYOUT
SIMILAR PRODUCTS
:

800 X 1200(1500)

:

:

YES

:

2

:

2430 (3130, 3630)

:

1500

:

:

25

:

:

Full
:

800 X 1200(1500)

:

:

NO

:

6

:

2430 (3130, 3630)

:

1500

:

:

25

:

:

Full